Earth Day 49 Yrs Ago: My First Sci Story
My 50 Years As A Radio Reporter
Can't believe it's been 49 yers since I covered my first science story: Earth Day, April 22, 1970.
The year was 1969. I was a college radio reporter at WBFO at SUNY Buffalo. Long story, short: As an unhappy engineering student, I joined the campus radio station looking for something more enjoyable to do. Having really enjoyed working at my high school TV station (H.Frank Carey High) on Long Island, I figured the radio station would be the next best thing given SUNYAB did not have a TV station. Hey. Maybe I could spin the dials on the "board" there, too.
At the first staff meeting Station Manager Bill Siemering (who would go to Washington to write NPR's mission statement and create All Things Considered…and Fresh Air) announced that the station would be expanding its news operation and would be hiring more student reporters. Well, hiring was not exactly correct. We would be working for free. He introduced Mike Waters, a local news reporter as the new News Director. When Mike asked for volunteers I sheepishly looked around the room and seeing very few hands raised, I raised my own. What the hell. I had been very active in high school theater. Was not afraid of speaking in public and I liked the challenge. It would change my life forever.
Mike explained that his new reporting staff would canvass the campus and the city of Buffalo. Our mission: cover a rapidly expanding anti-(Vietnam)War movement. Demonstrations, protests and eventually student and police riots (yes, police) would follow Kent State shooting deaths the next year.
The station owned a few Sony portable tape recorders like this one (before the days of cassette) that weight 13 pounds each.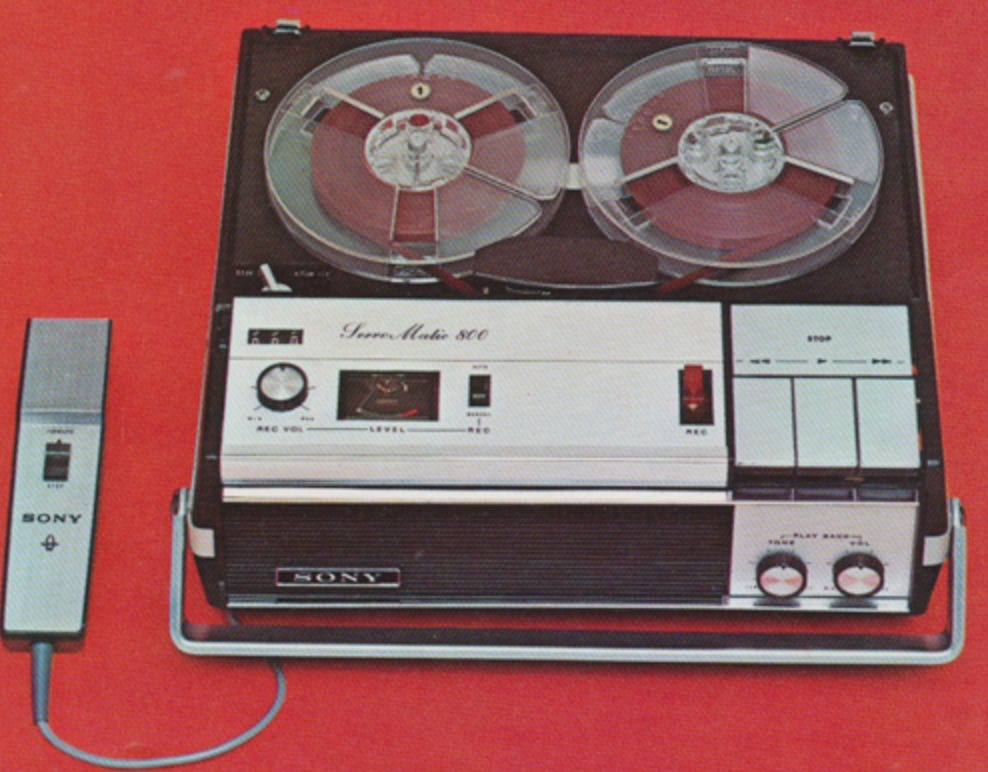 Being more luggable than portable they nonetheless served the purpose, as you can see in this photo. That's me with the mutton chops holding up the microphone at this anti-war rally featuring Bruce Beyer in Niagara Square in Buffalo, 1969.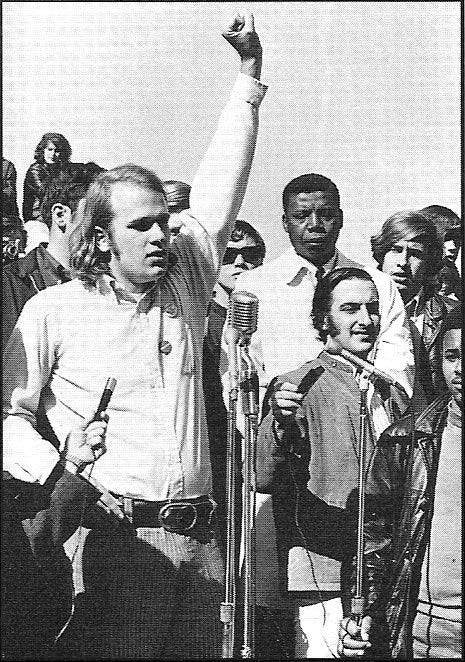 (Photo: UB Archives)
I think this is the earliest photo of me as a reporter. But I digress. My career as a protest reporter was interrupted briefly by Earth Day, April 22, 1970. I recall thinking "hey, this would be my first chance to produce/cover a science story."
I found a biology professor on campus who had been interested in a sunken submarine sitting at the bottom of the ocean and the danger it posed to the environment. This was an engineering story, an environmental story and a political story all in one. A reporting trifecta on my first attempt. The potential danger was newsworthy enough that Mike Waters who freelanced as reporter for ABC News helped me write and edit the story for sale to ABC radio for their hourly news cast. I made a cool $25. My first paying job as a science journalist! Very short lived.
Not two weeks later, the shooting massacre at Kent State turned UB into a virtual war zone with frustrated campus police tear gassing buildings (including dormitories) to root out demonstrators, students smashing windows and occupying buildings, police rioting and eventually shooting bird shot at students at the Student Union (no deaths but reporter eye-witnesses to the shooting, including myself, filed affidavits with the FBI the next day about what we saw).
After a major night of rioting hell found the campus shut down for the rest of the semester my career as a science journalist would wait until my 1971 graduation and my reunion with Siemering and Waters at NPR in Washington that September. Working first as an entry level producer then science reporter and correspondent I still look back on that first Earth Day as the one that helped put me on the road to where I am today.
And most startling is the sudden realization that this week marks my 50th year as a radio journalist. What a ride. Where did the time go?